24 Volt DC Reversing Solenoid Used for permanent magnet motors. Such as winches,Hoist Any Reversible permanent magnet motor.


T24450-24 24 Volt Reversing Relay
Texas Industrial Electric has been servicing customers in the
San Antonio Texas and surrounding area since 1981.
Please take a look through our web site, and feel free to
contact us if you have any questions .
24 Volt DC Reversing Solenoid Intermittent Duty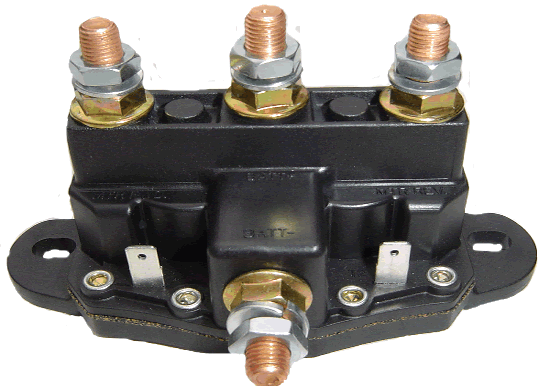 T24450-24
24 Volt DC Reversing Solenoid
"Used for permanent magnet motors Only"
Such as winches,Hoist Any Reversible permanent magnet motor.
No need to use the (4) SPST Relays or the (2) SPDT Relays
with this New Reversing Solenoid .
Voltage: 24V DC. Max operating voltage 28.5V DC.
DPDT intermittent duty.
Contacts: Silver Alloy Plating
Flat Base type bracket Large studs: 5/16" -24
Coil terminals: two blades
Coil type: common ground
Two integral solenoids provide dynamic braking
for permanent magnet motors when neither coil is energized.
24V DC 75A make and break, max On time 5min.
24V DC 100A make and break, max On time 30sec.
24V DC 150A make and break, max On time 0.5sec.
Allow 5min Off after max On time.
Use with a SPDT momentary toggle or rocker switch:
Toggle Switch (such as 55021)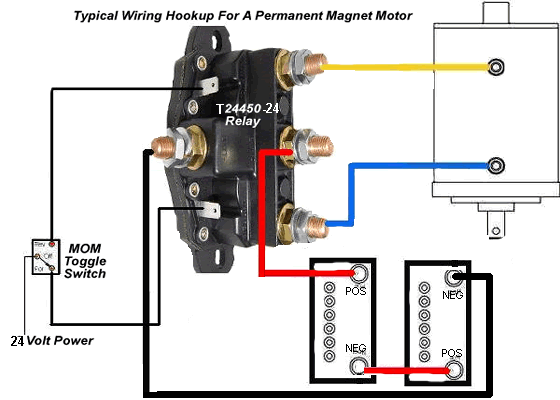 *We Suggest That You Use Circuit Protection For The Main Battery Feed To The Relay*
*And For the Relay Coil Activation Crcuits.*


Texas Industrial Electric Co.
San Antonio Texas
Phone 210-654-4075
Fax 210-599-2843

E-mail : TIE@TexasIndustrialElectric.com

Alternators - Starters Electrical Speedometer Drive Accessories Links